Unlocking the Power of Digital Strategy for Business
Developing your business's digital strategy is essential in today's digital world. It ensures your new business model has the tools and processes to meet customer expectations and drive business growth.
A digital strategy can help you create a tailored customer experience, improve customer retention, and expand your brand's digital presence to mobile devices. When done right, it can boost brand awareness and customer satisfaction, allowing your business to stay ahead of the competition.
But what is a digital strategy all about? How can it help your business grow? In this article, we'll unravel the power of digital strategy for businesses and how you can leverage technology to enhance your digital strategy. Read on to find out!
What is Digital Strategy for Business?
Digital strategy is a plan for using technology to grow your brand and increase sales. It includes social media campaigns, website design, online content, and email marketing.
Companies that invest in digital strategy are more likely to succeed in today's tech-driven world. In addition, a well-organized digital strategy attracts more potential customers and strengthens the relationship with existing ones.
Analyzing data, selecting the appropriate market, building a content plan, and selecting effective tactics are all part of a successful digital strategy. It must also be updated and revised frequently in response to technological breakthroughs.
Business schools such as IMD may teach digital strategy courses to increase company knowledge and improve its online presence's potential.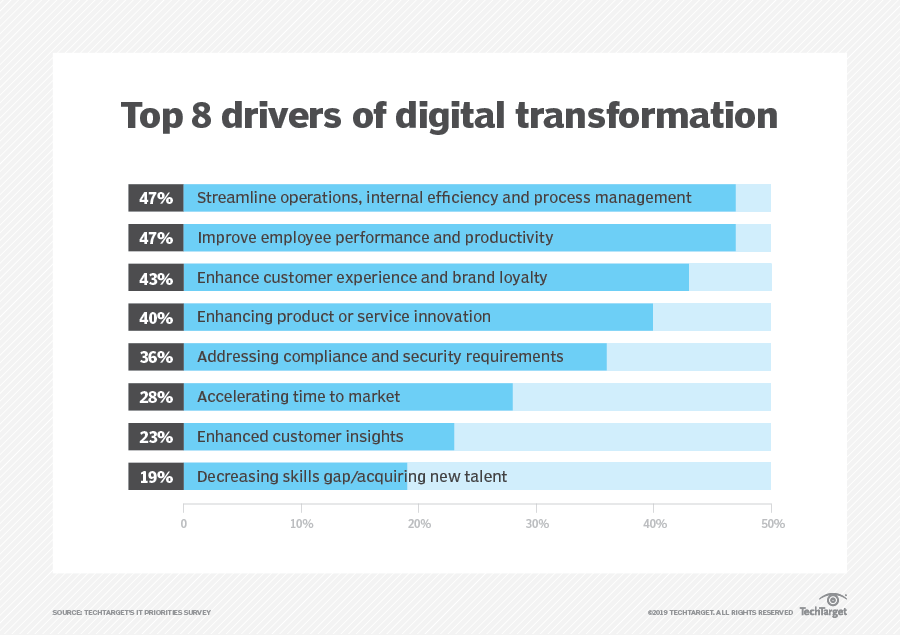 Source: Techtarget.com
What Are the Benefits of Having a Digital Strategy for Your Business?
A digital strategy is a business plan that uses digital channels such as social media, email, and mobile apps to achieve business goals. Implementing a digital strategy can improve customer service, expand the customer base, automate staff training, and streamline business processes.
In addition, it enables organizations to grow their brand, increase sales, and stay competitive online. With the proper strategy, businesses can create a plan to attract new customers through online channels and increase brand awareness. Therefore, embracing a digital strategy can significantly impact your business and enhance your online presence.
Source: Kanbanize
How to Develop a Digital Strategy for Your Business
Digital strategy is a written plan that sets strategic goals for a business and charts its journey toward success through technology. For example, a digital marketing strategy uses online channels to increase business awareness and attract new customers.
The first step in developing a digital strategy is understanding the digital landscape and setting key performance indicators (KPIs) to measure success. Next, define your target audience, success criteria, and valuable techniques, and set a realistic budget.
A vital part of a successful digital strategy is to employ a content strategy and select relevant marketing channels for the business. This helps businesses unlock the power of digital media by deploying the best digital platforms and accompanying strategies to meet their goals. With a digital strategy and a well-crafted content plan, businesses can reduce pain points while achieving better online and offline outcomes.
Measuring the Effectiveness of Your Digital Strategy
Launching digital marketing campaigns and strategies is a great way to grow your business. But how do you measure their effectiveness? First, identifying key performance indicators (KPIs) to track progress is essential. To do this, set SMART goals that are specific, measurable, achievable, relevant, and time-bound.
The next step is to track performance using tools like Google Analytics. You can also use social media metrics, lead and sales data, and other analytics tools to track and fine-tune your digital strategy.
By measuring the effectiveness of your strategy, you can identify areas where you need to improve, improve pricing, and optimize your campaigns for better results.
Leveraging Technology to Enhance Your Digital Strategy
The digital transformation of a business can help bridge the gap between independent business strategies and improve the overall functioning of the enterprise. Leveraging innovative technology can enhance marketing and operational efficiency. For any organization, a digital strategy is a roadmap to realizing its business targets through technology.
This approach enables firms to adapt strategies to changing market needs and internal performance factors. Setting strategic goals is critical for successful digital strategy implementation. By utilizing technology and innovation, businesses can enhance their digital strategy and achieve their targets efficiently.
Frequently Asked Questions
What are the five rules of digital strategy?
Creating a successful digital strategy is essential for businesses to stay ahead of competitors, drive competitive advantage and growth, and create value. Here are five essential rules you should follow when developing your digital strategy:
1. Define Your Digital Vision: Technology can help your organization meet its goals and objectives. Identify the areas where you must invest and how these new business models will help you reach targets quicker.
2. Prioritize Wise Investment Choices: Prioritizing wise investment choices is vital while deciding when and where to invest in technologies. In addition, ensuring the investments align with the digital business strategies is also essential.
3. Focus on User Experience: User experience should be at the forefront of any digital strategy as it drives customer satisfaction, engagement, and loyalty. Ensure you place customer needs first and build experiences with new technologies that enhance them.
4. Utilize Global Scale & Resources: Traditional incumbents can leverage resources like global scale, established customer relationships, and more to gain an edge over smaller rivals. However, companies must take full advantage of existing assets to stay ahead in this fast-paced digital economy.
5. Implement With Discipline: After it has been created, integration rules must be followed to implement a well-defined strategy successfully.
What is a digital strategy example?
Digital strategies differ depending on departments, such as marketing, finance, IT, and operations. For example, a digital marketing strategy should establish an internet presence through various channels. This helps to raise awareness and attract new customers to the brand.
These channels include content marketing, search engine optimization (SEO), email campaigns, social media marketing, pay-per-click (PPC) advertising, video campaigns, and influencer marketing. All these are great examples of digital strategies that help you reach your target audiences in effective and cost-efficient ways.
Are there any resources available to help me create a comprehensive digital strategy?
Several resources are available to help you create a comprehensive digital strategy. Digital Silk is an excellent option that offers data-backed digital strategies for online presence. In addition, their workshops and tools guide businesses in identifying optimal digital initiatives for reinvention and growth. Digital Leadership is another reliable source providing users with a library of online innovation and transformation tools.
Lastly, when creating a digital strategy, you must ensure your initial or transformation plan balances investing in current and new products to facilitate digital maturity. This includes allocating funds to resources like web hosting, domain name registration, software development, research and development projects, etc.
Conclusion
Digital strategies are vital to the success of any business today. They help companies achieve their business goals and objectives by leveraging digital technologies. They also help organizations understand how digital technologies can improve customer experience, engagement, and employee productivity.
In addition, with digital strategies, businesses can create a competitive advantage and gain new customers. Thus, digital strategies are essential to thriving in today's digital world. If you want to learn more about digital strategy for business, visit our digital strategy section for a deeper dive!
Hello, I am Teddy, the creator of Teddy's Topics. I enjoy talking and writing about technology and information security topics of all shapes and sizes.
Drawing from my 20-year tech and engineering experience and EET, CIS, MBA, and MSIT schooling, I strive to empower people and businesses with knowledge and tools for success.