7 Technology Solutions for Business Growth
Every business seeks to leverage technology solutions to gain a competitive edge in today's fast-paced world. Digital transformation is no longer used only by IT departments; it's a business buzzword that has taken the world by storm. As a result, a business can streamline its processes, increase efficiency, reduce costs, and, most importantly, drive business growth.
In this article, we will discuss the benefits of using technology for business growth, which technology solutions you should focus on, and the top seven technology solutions that could unlock the potential of your business. From using cloud-based services to data analytics, we've got you covered. So read on to learn how to take advantage of the latest tech and what it takes to make your business successful in today's digital age.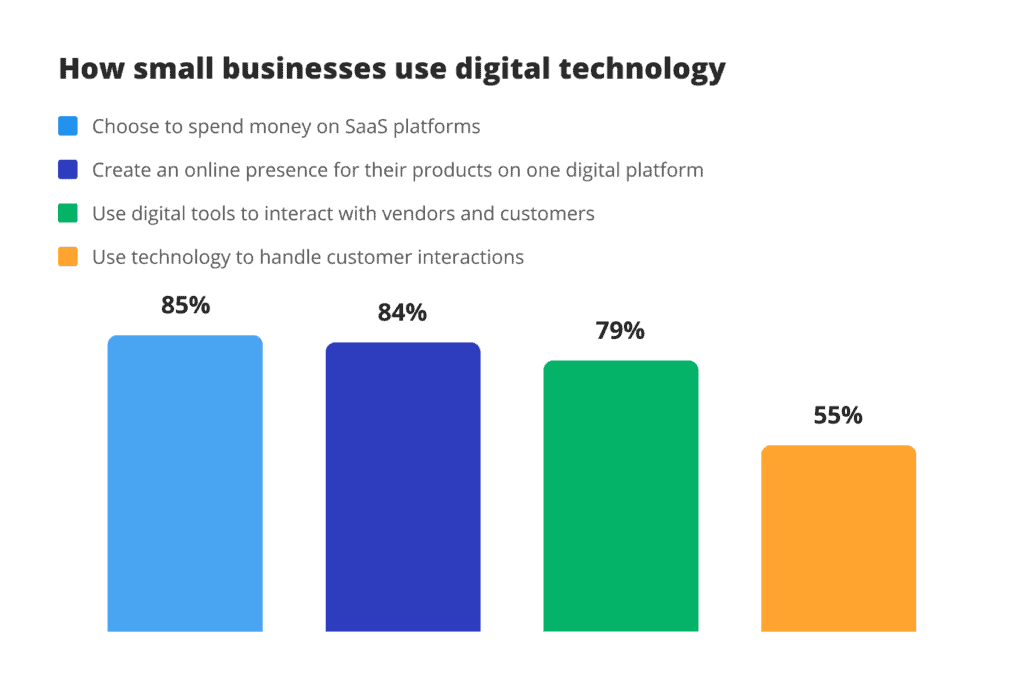 What are the Benefits of Using Technology Solutions for Business Growth?
Technology is vital to business transformation and growth in today's digital age. Small businesses can improve revenue, growth, and job creation by incorporating technological solutions into business operations. By implementing the changes in the small business graphic above, entrepreneurs can streamline their business processes, optimize their resources, and pursue innovation at an accelerated pace.
Outsourcing technology services, mainly IT services, can help businesses save significant resources and time. By outsourcing these essential services, entrepreneurs can focus more on their core business activities, allowing them to achieve their goals more quickly. In addition, it is vital to stay updated with technological developments and choose solutions that fit business needs adequately.
Which Technology Solutions Should You Focus on for Business Growth?
Finding the right technology solutions for your business can significantly impact your productivity and profitability. Business technology encompasses various tools and practices companies can use to enhance operations and drive growth. Consulting services can be vital in planning, building, and implementing technology solutions to meet specific business needs.
Everyday business functions such as accounting, HR, and marketing can benefit from this practice, saving time and increasing accuracy.
Choosing the appropriate technology for your small business can significantly impact your success. A comprehensive evaluation of your business needs and goals can help you identify the right solutions for your growth.

7 Top Technology Solutions to Consider
Some widely used technology solutions include cloud-based software, infrastructure, and data storage; Customer relationship management (CRM); project management tools; and mobile technology. By implementing them correctly and using data interpretation, you can stay ahead of competitive trends and keep things running in the long run.
Some businesses may require a provider to manage and deliver new products and services on a larger scale, so you don't need to worry about technicalities. Let us look at the seven technology solutions businesses can utilize when and how they are needed to unlock their growth potential.
1. Cloud-Based Services
Cloud-based Services can help a small business owner save costs and provide secure data storage and recovery. In addition, applications like Amazon AWS, Google Cloud, and Microsoft Azure can transform processes for all business types, enabling greater efficiency and productivity.
The money saved from cloud-based platforms can be reallocated towards business improvements and marketing campaigns, allowing for even more tremendous growth and success.
2. Customer relationship management (CRM)
Customer relationship management (CRM) is near the top regarding unlocking growth potential. CRM enables businesses to establish personal relationships with each customer and provides contact and sales management to manage customer relationships across the entire customer lifecycle.
Combining CRM and marketing automation can help businesses identify customers' needs and preferences to determine how to satisfy them. It also provides a seamless customer experience across different channels. Solutions offering CRM and marketing automation capabilities in one package can help cut costs.
Businesses embracing technology solutions like CRM software and systems integration can unlock their potential for growth and success in the modern landscape.
3. Enterprise Resource Planning (ERP)
ERP software streamlines critical business processes to optimize operations and save IT costs. Additionally, professionals can help businesses find and implement the best ERP software for data integration.
ERP can help boost small business success on a smaller budget using integrated business applications such as human resources and payroll. This integration can provide a high-level view into core processes, improving information systems and overall efficiency.
4. Mobile Technologies
Mobile technologies can significantly improve employee productivity and workflow efficiency. Cloud-based phone systems, for example, provide flexibility and agility, allowing employees to work regardless of their location.
Mobile-friendly websites are also crucial in today's digital age, increasing visibility and attracting smartphone and tablet customers. A robust online presence can make or break a business in the modern marketplace.
Additionally, Cisco's cloud-managed solutions can greatly aid small and medium-sized businesses in their growth efforts. Taking advantage of popular providers' all-inclusive phone and internet packages can also streamline operations and reduce downtime. As a result, these mobile technologies can create a more agile and productive workplace.
5. Data Analytics
Technology solutions can play a pivotal role in improving workflow efficiency and decision-making processes when unlocking the potential for business growth.
Advanced analytics can increase productivity by providing valuable insights into key metrics and KPIs. It can also aid in making data-driven decisions. Data analysis is necessary for success in today's business climate as it provides a competitive advantage through effective data management.
6. Information Technology Infrastructure and Security
One of the essential considerations is updating IT infrastructure and Security. This can streamline communication between business systems, improve operations, and lower costs.
With the rise of cyber threats and the increasing amount of sensitive customer data collected by businesses, IT security should be a top priority. SaaS solutions offer better protection for proprietary information than traditional software, and several high-level security services are available for small businesses.
Security measures like endpoints and VPNs protect businesses, customers, and employees. A company should invest in good online security software and network security staff to prevent data or budget leaks that could harm its reputation.
In addition, investing in 360-degree sweeper IT cameras can further improve Security for retail stores or supermarkets. Businesses can improve their IT footprint and protect themselves and their customers by taking these steps.
7. Technological Outsourcing and Automation
Technological outsourcing and automation can significantly reduce costs and save business time by delegating non-core activities. In addition, outscoring tech requirements such as IT can save the most money by eliminating the need for in-house IT professionals and costly infrastructure. In addition, the innovative framework provided by outsourcing can also be used for the management, maintenance, and enhancement of applications.
Adding AI and other automation layers has become necessary in today's fast-paced environment and can offer a competitive advantage by keeping up with the pace of business.
Frequently Asked Questions
What are Business Technology Solutions?
Business technology solutions refer to tools and strategies that help improve productivity and communication in the workplace. For example, app and software solutions can streamline business processes and automate tasks, while managed IT services provide businesses with the necessary technology and support to operate smoothly.
Choosing the right one can significantly improve small business productivity. Customer testimonials support the reliability and cost-effectiveness of popular types like Cisco Meraki and Webex, making them trusted choices for businesses looking for effective technology solutions.
What is a Technology Solutions Provider?
A technology solutions provider is a company that manages and sells technology products and services on a larger scale, often influencing and managing core business operations for organizations.
They can help businesses with a range of services and custom solutions, from guiding them in strategy and enterprise application support to custom application development and cloud computing.
IT consultants or tech providers can help businesses decide about hardware and software, website hosting, and cybersecurity. Many affordable and reliable options, such as Cisco Meraki, are available.
As technology continues to play an increasingly significant role in business practices, businesses must remain competitive and benefit from providers to enhance customer service, boost sales, and streamline operations.
Final Thoughts
In today's world, technology solutions can help business owners and executives of companies to compete and grow in the ever-evolving marketplace. They can streamline business processes, automate tasks, boost efficiency, ensure data security, and improve customer experience. But, deciding which one to use can sometimes be overwhelming, especially when many options are available.
Taking the time to evaluate which one suits your business's unique needs and goals is crucial. It would be best to have experts who understand your challenges to help you identify which technology solutions can help you achieve your objectives. Contact us today to learn more about how we can help you unlock the potential of these seven technology solutions to accelerate your business growth.
Hello, I am Teddy, the creator of Teddy's Topics. I enjoy talking and writing about technology and information security topics of all shapes and sizes.
Drawing from my 20-year tech and engineering experience and EET, CIS, MBA, and MSIT schooling, I strive to empower people and businesses with knowledge and tools for success.